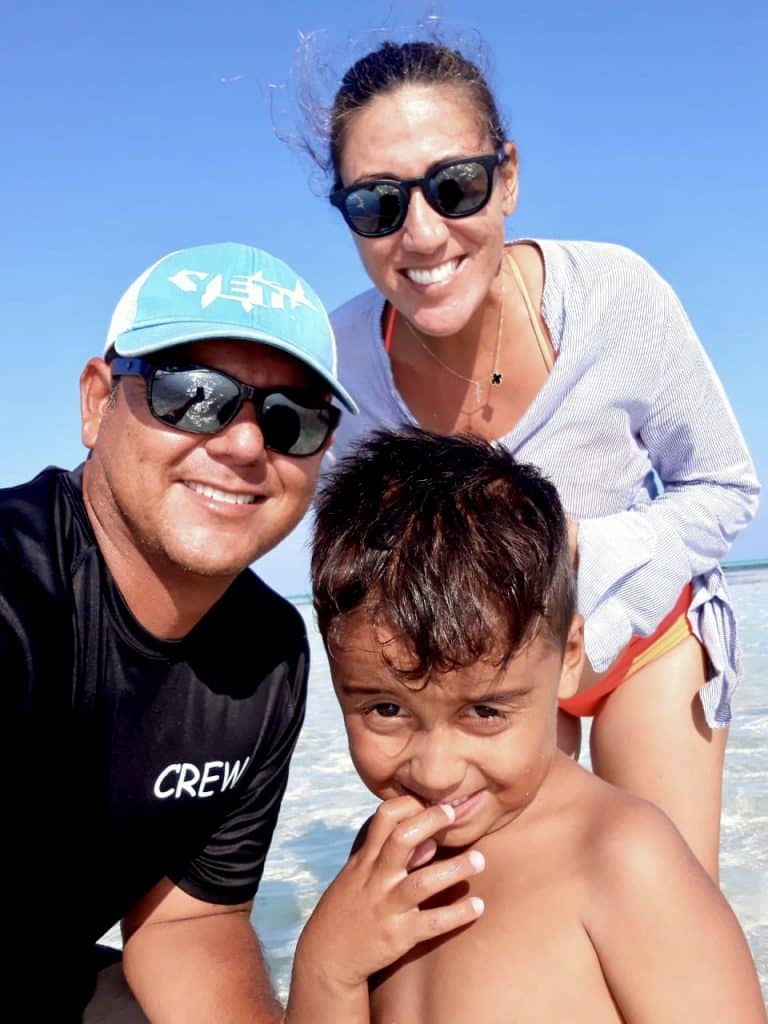 Born and raised on Caye Caulker, Artie Marin helped his dad Emelito as a young boy with the family's lobster fishing business. Growing up on the water he memorized the reef and the beautiful life within it. As more and more foreigners visited the Caye, Artie saw an opportunity to share his little island and its surroundings with those who wanted to see and do more than enjoy a cold Belikin. Over twenty years ago he became a licensed guide and has led adventurous divers over 100 times into The Great Blue Hole and Thousands more snorkeling into the Mesoamericana Barrier Reef.
Artie began Anda De Wata Tours (ADW) in 2004 with a specialty in delivering memorable snorkeling tours with access to Belize's beautiful Barrier Reef and beyond. In 2010 his passion
for sustainable tourism and abundance of island pride caught the eye of his (now) wife, Kat who join the ADW team and together have worked hard in making Anda De Wata Tours a success.
It is a boutique business with a tightknit and committed staff. You can still find Artie Captaining
tours and Ms. Kat in the office organizing excursions with their children often alongside her.  Anda De Wata Tours has been featured in various travel guidebooks and blogs. It was
nominated for Tour Operator of the Year in 2014 and continues to lead one-of-a-kind tours on the Caye. Artie and Kat have a passion for delivering the best service possible leaving guest with experiences and friendships that last a lifetime.
In 2010 Artie meet his now wife Kathrina Morera "Kat" and convinced her to leave her job and home in California to live "island life" on Caye Caulker. Kat officially boarded Anda De Wata Tours in 2013 and has since assisted in growing the family business moving onto "Front St". They have slowly grown the business together offering one of kind tours such as Island Tubing and beach BBQ's focusing on quality and 1st class snorkeling service with a focus on eco tourism and have gone on to owning one vessel to now owning three. In 2015 they began to branch off offering inland excursions along with scenic flights over the Great Blue Hole.
As a family run business you can still catch Artie at work on tour and his wife in the office passionate about Belizes barrier reef taking pride in offering travelers from all over the world access to one of Belizes natural gems.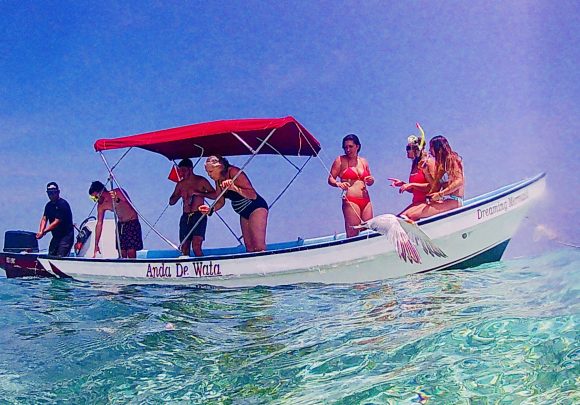 Dreaming Mermaid is a 25ft Mexican Lanchon motor boat. It is licensed for 14 passengers and we max it out at 10 passengers. Great for small groups. It is also the boat that Anda De Wata Tours started out with in the beginning.
Dreaming Mermaid was named after Art's daughter.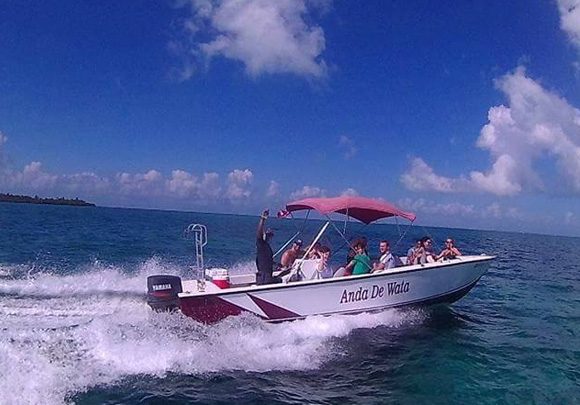 Baby Dax is a 28 ft Wayward motor boat. This Belizean built boat is licensed for 20 passengers, but we max it out at 16 passengers. It takes the seas beautifully. Most dive companies use this type of boat for local dives and bigger seas than snorkel companies have to deal with.
Baby Dax was named after Art's son.
Mr Pott's is a 29 ft Pipersberg motor boat
built in Belize. It is licensed for 22 passengers, but we max it out at 16 passengers. 
Just like Baby Dax this style  of boat is used by dive companies for bigger seas and smoother ride.
Mr Pott's was given it's name in memory of owner Art's Father.